Simplicity 3266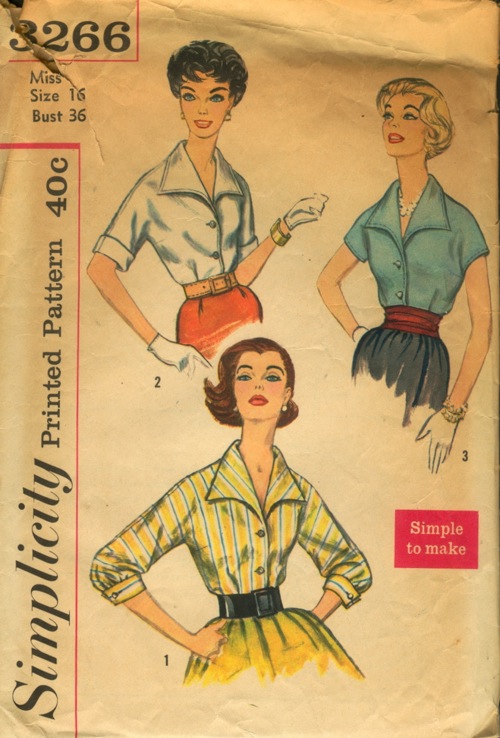 View 3 (shown in blue)
...or, Sue: An Easter Egg Personified.
Welcome to my first project from a vintage pattern! I finally finished the "simple to make" Simplicity 3266. I really enjoyed sewing this blouse, but am not sure it'll actually be a
wearable
muslin...I'm undecided. My main issue? I feel like an Easter egg. More on that in a bit.
This pattern was fun to sew. The directions were (mostly) easy to follow, the diagrams very helpful, and best of all there were no sleeves to set in!
There was one confusing part, though, where the pattern instructions seemed to want me to make a paper football/accordion strip of bias tape and put it on the armpit seam for reinforcement. After fiddling with the bias tape a bit, I realized I didn't really care to adhere to that step and tossed it. But what do you think, have you ever seen this before? Does this kind of kimono sleeve thing really need such reinforcing?
bias tape accordion fail.
now, magically fold up this bias tape and attach it to the armpit!
Now lets get down to the fit. I made view 3 and right off the bat, it looks like my sleeves are much flappier and less fitted than intended. They
feel
a bit flappy, too, and I think next time (there will be a next time!) I sew this, I'll make the sleeves narrower. I'll also probably make the waist tucks a little bigger, so the waist area will be a little more fitted.
Next time around, I'll also definitely be doing some adjusting in the collar area. When I showed Tom the finished product he said "it's a '70s collar!" Unfortunately, that's not quite what I was going for. I'd secretly hoped, despite how obviously large it appears in the illustration, that the collar would somehow turn out more Pan Am uniform than floppy, winged '70s thing. Sigh.
actual collar
Another bone I have to pick with the collar is more...structural? I'd run out of fusible (or any kind) interfacing and for some reason figured, "whatevs, I'll just use muslin" instead of actual, stiff, interfacing on the facing. This makes the collar
super
floppy and not crisp at all, so I don't really recommend doing that on a shirt like this.
So, back to the Easter egg bit. I love
this fabric
, I think it's just the bee's knees, but maybe it's better off in craft land than apparel sewing.
Perhaps I'm being hyper critical (who, me?) but, for me, the colors and scale of the print combined with the fabric's quilting weight/lack of drape make this feel a little bit too Springtime craft project for me.
When I saw my finished garment on my dress form, "Easter egg" just popped into my head. When I'm wearing it, I kind of feel like a big, bright, floppy, polka-dotted BLOB (maybe it'd feel less blobby if I tucked it in? ...I'll get back to you on that).
Is it weird that I think it looks better on the dress form?
Things I like about this project? As I mentioned earlier, no setting in of sleeves! Also, I actually had success with the buttonholes (all four of 'em - though the pattern called for only three and then a hidden snap for the 4th), for once. I also had a super time adding contrasting light pink bias trim to just about every raw edge I could get my hands on - or at least the facing raw edge, the sleeve facings, and the blouse hem.
pink and green!
What do you think?
I know this is a topic of contention among many sewers, but do any of you ever use quilting cotton for apparel projects, or is that always a huge no-no?
If/when you do use it, are you usually pleased with the results?
I think the main things I like about it are: it's a breeze to sew with and there are so many cute prints available...if you can pick one appropriate for your project.