My sewing plans for this month kind of turned out to be the opposite of what I'd originally thought. It seems as soon as I announced I
wasn't
going to sew a holiday dress and mentioned I
would
be sewing a Christmas gift for someone, I began working on just the opposite. This season, my sewing ended up being rather selfish, but sometimes that's what it takes to get you out of a little sewing rut!
I had been looking on Etsy at vintage party/cocktail dresses to wear for the holidays and wasn't really finding anything in my price range that I was in love with. I really wanted something green and preferably with a bow (or two). At one point, I decided to have a
just a glance
through my pattern/fabric stash and found myself pairing my lightweight, emerald green, cotton sateen with New Look 6910.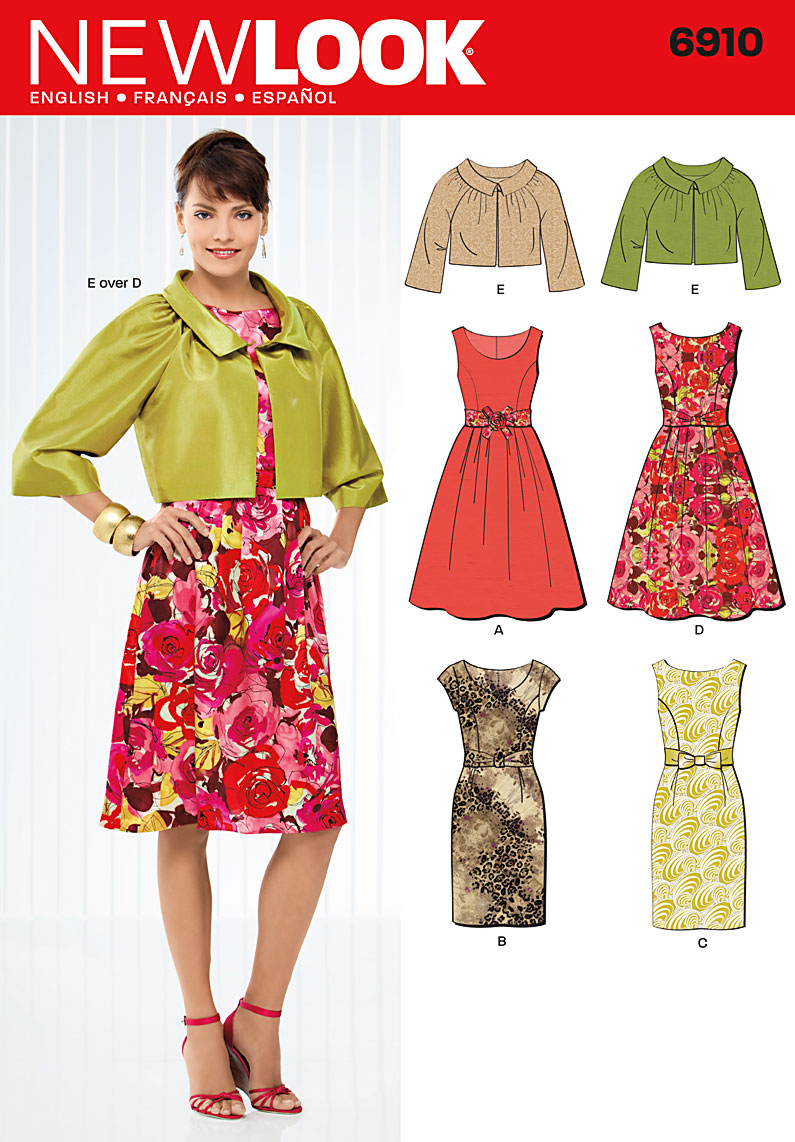 Once I had them unearthed from my stash and waiting for me on my sewing table, there was no turning back - I dove right in! I didn't even deviate from the versions provided in the pattern (no mixing and matching of bodices and skirts, like I usually do). I made a straight view C because it had the straight skirt with two little pleats, strapless boat-neck neckline, princess seamed bodice, and all-important
bow
at the waist.
Action shots courtesy of Mom & Dad on Christmas Eve.
Because the fabric I'd chosen is so lightweight, I lined the bodice with muslin and underlined the skirt with it as well. Then I cut a 3rd skirt (the first 2 were fashion fabric and underlining) out of some synthetic, swishy, mystery fabric that's white with a cute black and red pattern
to line the skirt. I'd picked it up at an antique store in my early days of sewing (I think I'd planned to use it for a blouse? Ew.).
side - front - back ...the back doesn't look so rumpled and strained on me when worn, just on the dress form. ;-)


some detail shots. the beloved BOW, and the bodice and skirt lining
This project held a few "firsts" for me. It was my first (successfully) fully lined bodice. Luckily the directions were right there in the pattern and I was FINALLY able to wrap my mind around the way to do it. It was also my first time doing this type of combination of lining and underlining, which worked out well, I think. The last "first" ?, I did my first ever hand-picked centered zipper. I glanced at Gertie's instructions from her book, and just went for it. The thrilling part was having such control over the zipper insertion. Normally I am a mess when putting in a zipper and they pretty much always turn out somehow wonky. This one is by no means perfect, or even very pretty to look at, but I was in control of the placement and didn't have to wrestle with my machine. It was great! I can't wait to try more hand-picked zippers so that I can eventually make some that look nice.
dress' insides and hand-picked zip. for some reason my fabric coloring would not photograph well at this point...?
If I make this pattern again, I'll cut a size smaller (I had to take it in a LOT!) and lengthen the skirt by a few inches. I did a tiny hem and the finished dress is still a little shorter than I'd really like. All in all, I'm quite pleased with this little dress. I'd been really wanting something in a deep green shade and am so glad I was able to make this fabric work. I even managed to finish sewing it just in time to wear for the holiday. Merry Christmas to ME!