I feel like I've got a lot going on in my brain & sewing room right now! I'm clinging to multiple sewing ideas, while also trying to do some refashioning and complete my Pendrell blouse. I actually took some time off work to give myself a long weekend for getting things done. However, in the sewing department, instead of being productive, I've ended up spending a lot of time marveling over all of the ideas for things I
could
work on. There's sewing project inspiration, potential refashioning projects waiting in a pile, and my in-progress Pendrell blouse.
Inspiration:
Ever since starting to read (yes, read - not just flip through the pretty, pretty pictures!) 1
00 Years of Fashion
, one particular style has been stuck in my head. I know I've claimed the '60s as my best style decade for its more wearable, cute fashions, but who can resist the New Look.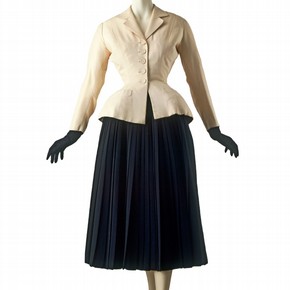 1947 'Bar' by Dior - V&A
Something about the fitted jacket and or blouse belted over an a-line or full skirt, idea won't get out of my mind. For some reason I'm picturing myself wearing this type of suit, maybe in dark blue, boarding an airplane? Don't ask. I've found a pattern that I'm dying to try, but then again, I think I could turn Gertie's jacket and skirt from her book into just as nice of a suit, and I wouldn't have to purchase any new patterns. But, just
look
...
It's even from 1960! But, then there's also this lovely '50s pattern, too.
Pretty! I'm not normally into suits, but these seem so smart and fun to wear. I'm especially liking the look of the jacket being nipped in at the waist and extending down to cover the hips, but not as long as a '40s style suit jacket. This look definitely helps create that hour-glass silhouette, but isn't revealing or racy. I'd call it ladylike but cute - at least that's how I'm hoping it would look on me.
Drooling over inspiration is a lot easier than completing a sewing project, though. Which tends to leave me with too many ideas to narrow down to a starting point and no progress on my current projects.
That said, I'm also being tempted by the
Polka Dot Frock Fest
that's been talked up over at Scruffy Badger Time.
I already own this pattern but have yet to sew it up. I also own some blue, polka dotted fabric that's been sitting forlorn in my stash for longer than I care to recall. Sounds like a match made in heaven, if you ask me.
If I do participate in the frock fest, I'm hoping to make my version something I could wear in my casual work setting without getting "...you're dressed up today" comments. I'm liking the view that's already illustrated in a spotted fabric on the pattern envelope. Hmm... we'll just have to see.
Refashioning:
Earlier this month, I picked up this black, wool herringbone pencil skirt at the thrift store. I think it's from the '70s or '80s? It's fully lined, has pockets, and has a little strip of elastic on each side of the waistband This might not sound like a plus, but the elastic is not super noticeable and makes a big difference in terms of comfort! It's a great length for a vintage office-y look, but my office is pretty casual, like I mentioned, and I'll get more wear out of this piece if I shorten it to above the knee. Not really a drastic refashion, more an alteration, but yeah. That's the plan.
Thrifted wool skirt with pockets - closeup shows elastic at side-waist
I also have 4-ish other thrifted pieces just sitting in a pile, unwearable until refashioned into something better. I've tucked them away for now because I don't want to get sick of them before I even have time to start working on 'em. I easily get carried away with all of the pieces I see with "potential," rather than keeping in mind what I'll actually have time/energy to work on and will be able to really wear when completed.
Actually Working On...
In the meantime, through all of the swirling inspiration and project plans in my head, I've come to terms with the fact that trying to work on, or even just think about, too many things at once ends up being bad news for my sewing productivity. Once I finish my current project, the Pendrell blouse, I'll move on to address any lingering sewing inspiration or refashioning ideas. That may sound dull, but I think I'll go insane if I don't focus!
In-progress, creased and droopy, teal Pendrell
Today I'm planning to draft a collar to add to my teal rayon Pendrell WIP. Gertie's tutorial from her book seems pretty easy to follow for collar drafting, so, hopefully that'll turn out nicely. I am trying to make an effort to not rush through this relatively simple project. I don't want to be tempted to cut any corners and end up with a poorly finished piece that I won't enjoy wearing. Wish me luck!