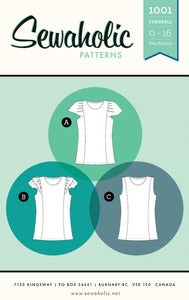 Ahh, how nice to have a completed project. Even though I felt distracted by all of the
sewing inspiration
swirling in my head over the weekend, I managed to finish up my
Pendrell
blouse. Yay!
In keeping with the color scheme of the pattern envelope (oops!), I sewed this baby up in a teal rayon challis from Fabric.com that had been sitting in my fabric
stash
mountain for a few months, hoping to become a blouse. It's very soft and silky, and feels great to wear. I just love the color, and I've got a little bit of fabric left, so I might try to incorporate some of it into a future project.
As you can see, I picked the simplest version, View C, and added a peter pan collar, which I drafted using Gertie's instructions from her book. I know you might not think "Pendrell!" when you see my version, but this style is what I had in mind when purchasing the pattern. Ever since I saw Anna's cute collared version, I knew I needed to try one. I'm sure you can see why...
...if only my photos looked as nice as hers. Anyway, you're here to see what mine looks like on me, so here you have it. Note that these photos were taken after I wore the blouse at work all day. Which reminds me, I wore this to work already! It seems like, so often, I end up sewing things and then not wearing them to work or in my everyday wardrobe, but saving them for weekends or special occasions. I'm not sure why it happens, but I'm trying to stop that, since I have such a casual work dress code and there's really no excuse. I can pretty much wear as fancy or as casual of an outfit as I'd like.
Though I'd thought I was being super meticulous in my collar drafting, the pieces ended up being slightly longer than needed, so there's a little bit of overlap in the back, as you can see. At first this horrified me, but then I grew to like it, and now I think it's cute!
It works well with holding cats, too. We call him Bratman.
I just had to include this one for the crazy hair/eyes...
I definitely like this pattern and would recommend it. In case you haven't heard details from the countless other versions other bloggers have sewn up already, one plus of this pattern is that Tasia has created pattern pieces just for the bias binding/facing used on the arm and neck holes. I love this feature! Another plus? no zippers or closures to install. I hope to sew this blouse up again soon - it's already a very wearable me-made piece in my wardrobe.
The next time I make this top, I think I'll go down a size and might add a little keyhole opening in the front or back to add interest as well as make it easier to get the neck opening over my head. I'm also thinking of incorporating the little cap sleeves from View B, and would likely make the hem for the bottom of the blouse shorter, overall. This pattern definitely has a lot of options for variations.
Have any of you sewn a Pendrell blouse yet? What did you think - did you love it?
Am I the last sewing blogger on earth to make it?