At the beginning of spring this year, I put together a
Warmer Weather Wardrobe
sewing plan. Now that spring is over, summer is wrapping up, and fall is rapidly approaching, I thought I'd do a little revisit to see how my warmer weather sewing panned out.
First off, I specifically noted in my
plan
that I was something of a slow sewer, seeming to take about a month to sew anything, regardless of the size or complexity of the project. I'd wanted to take this into account when trying to form a realistic sewing plan. I think I can now say that my sewing has gotten a little speedier, though nothing to brag about. I've just gotten some more experience under my belt, which always helps things go faster.
Anyway, my plan had me really trying to work from stuff I already had in my sewing room to meet my warmer weather wardrobe needs. The first thing I made was my vintage
Simplicity 3266
blouse. This was my first foray into sewing with vintage patterns and I got to use some cute fabric I already had.
Simplicity 3266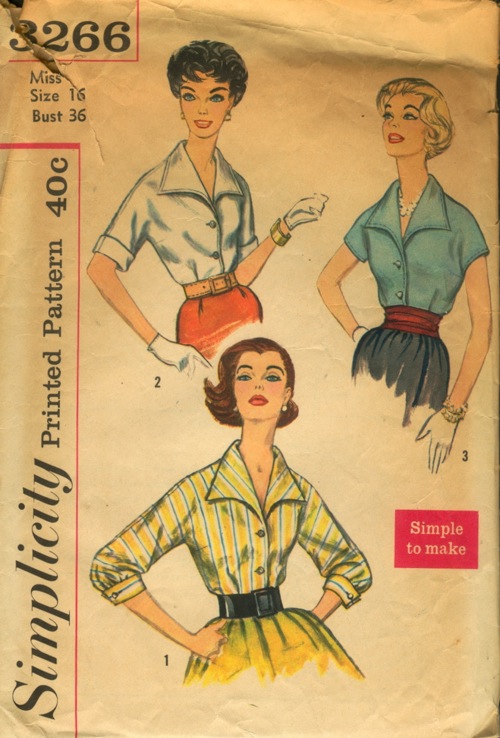 I love the idea of this blouse, but it just hasn't been something I end up wearing. It's one of those tops that seems to demand to be tucked in, but even when I do, it still seems blousy and poufy and unflattering. I planned to remake it with a more subdued collar shape and slightly narrower sleeves to see if I could make it work, but have yet to actually do so.
I also had grand plans for a
Ginger skirt
made up in denim, after being inspired by the numerous cute versions floating around out there on the internet. I wanted to perfect the fit before cutting into denim, so I made it first in dark blue broadcloth I'd had in my stash.
Colette Patterns' Ginger
I like the way this one turned out, though I will make some tweaks to the waistband for my next version, but I still haven't gotten around to sewing it up in denim, or any other version for that matter! Luckily this first version does get some wear in my summer wardrobe, and will hopefully continue to do so, at least for the beginning of fall.
The two more exciting pieces on my sewing list were wedding guest dresses. I sewed them up from patterns that were already in my stash and most of the fabric was stuff I'd already had, as well. Even though these are party dresses, I think they might be the most wearable (or maybe just the most fun to wear) pieces I created from my spring/summer sewing plans.
And that's it! The above projects were all pieces that came directly from my warmer weather sewing plan. But that doesn't mean that's all I made to add to my spring and summer wardrobe. Sometimes you can't always just stick to the plan - you have to go where inspiration takes you! These pieces were created as quick, fun projects that were not really planned out at all. I find that these types often end up being my favorites.
This cute blouse, that I still haven't completely finished (oops!), made from McCall 9458. I LOVE the fabric, though, so hopefully I'll be making this baby wearable soon.
My latest project, the
bow blouse
from Simplicity 2154, using the spotted rayon shirting I'd originally planned to use for a Sencha blouse (a pattern that's STILL on my to-sew list).

What was on my warmer weather sewing plan that didn't end up getting done?
Well, for one, this pretty rayon challis is still sitting in my fabric stash. I love it but just haven't found the perfect project to use it for yet. Hopefully I will soon!
abstract floral rayon challis
Same thing goes for the pencil skirt that has been on my to-sew list for longer than I can remember. I keep telling myself I'll get a pattern perfected and then make a zillion versions, but haven't actually done so yet. Now that my dress code at my new job is very casual, I'm not sure if I'll even need many pencil skirts...though I do love them.
That's all for my little recap. In other news, I actually managed to sew Tom's birthday shirt up in time to give it to him as a gift, but I'm going to need to do some adjustments to it before I can post about it here. It's currently too big (surprise, surprise - thanks for all the extra ease, McCalls). Since he wasn't around while I was sewing it, and it was kind of a surprise, I wasn't able to fit it to him as I sewed, so I knew this would happen. Anyway, I'll share more details once I get it
officially
completed. :)